Genesis GV70 Electrified review – EV Central
[ad_1]

When a new player in the market, like Genesis, comes along, it really has to focus on body snatching. Not in the zombie horror sense, but it does literally have to snatch buyers away from the brands they've previously bought, or considered.
In the car game, these are called "conquest" sales, which make them sound very Game of Thrones. Genesis – a brand described by its spokespeople as "audacious and distinctively Korean" – is to Hyundai what Lexus is to Toyota, which means that it's after Lexus customers, but also the German premium marques such as BMW, Mercedes-Benz and Audi.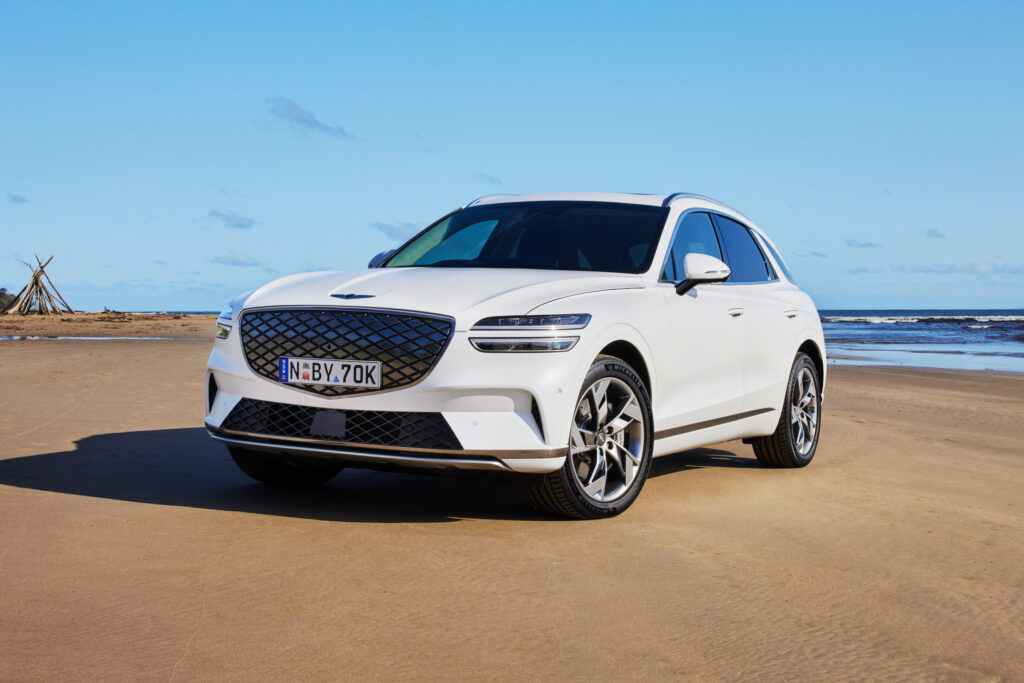 The brand's local boss Connal Yan says Genesis's cleverly posh proportions and haven't-I seen-this-somewhere-before styling has also helped it to steal sales from Porsche (people who don't want to wait so long for a Macan), Aston Martin, Jaguar, Alfa Romeo and even Bentley (well, he says there are people who already own Bentleys but buy a Genesis as well, as a run around). Oh, and lots of people stepping up from Hyundais, obviously.
Now, with the GV70 Electrified it steps into a new and important sales battlefield, the world of premium SUVs that are also EVs.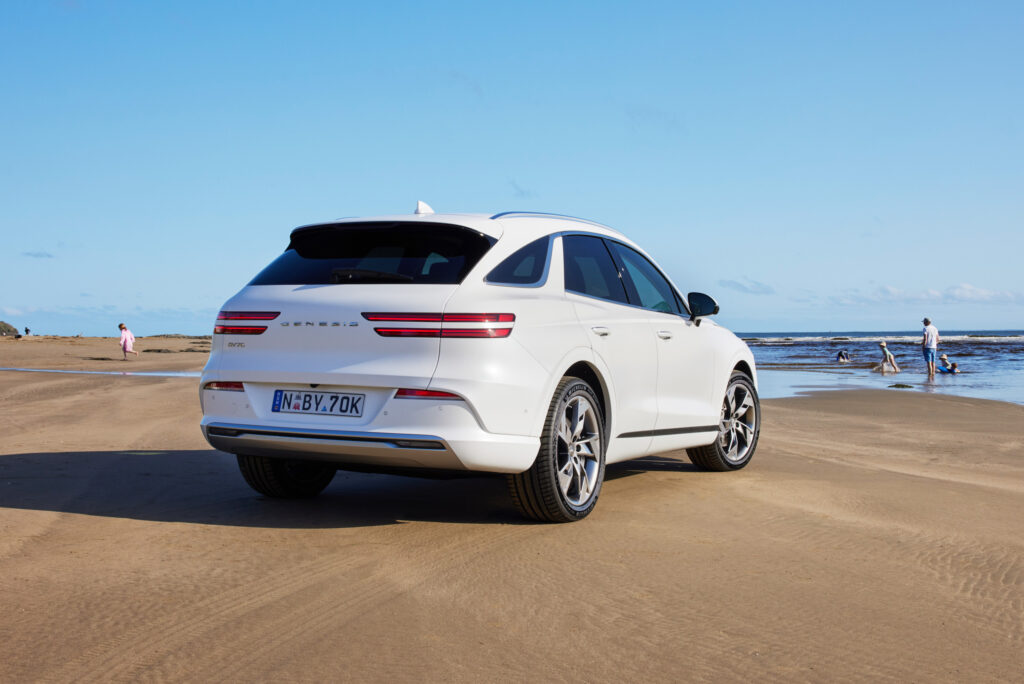 Unlike the recently launched Genesis GV60 – which is built on a bespoke EV architecture – the GV70 Electrified takes the familiar underpinnings of a GV70 running on petrol or diesel and adapts them to EV life.
It certainly looks the goods – you'd easily mistake it for a Bentley – and it's got power to burn, but will it be impressive enough to snatch buyers away from the other players in this niche, but growing, segment?
Genesis GV70 Electrified: Value
Straight up, at $127,800, the GV70 Electrified does not sound cheap, but it is packed with gear and doesn't charge you umpteen thousands in optional extras. Much like the Lexus approach, it undercuts the Germans by giving you the all-you-can-eat option, which makes its price look more reasonable.
You'd expect to get all the gear at that price, but in his case you're getting the fruit plus an electric powertrain, for which you normally expect to pay a lot extra. The GV70 comes in a single Luxury Package that includes a 14-speaker Lexicon stereo with digital radio and Apple CarPlay/Android Auto, plus 18-way powered front seats (in Nappa leather) with multiple massage functions, three-zone climate control, 20-inch alloy wheels (but no spare, just a repair kit), 14.5-inch infotainment screen, 12.3-inch digital instrument cluster and a head-up display with augmented-reality navigation.
Your seats are also heated, front and rear, of course, as is the steering wheel, which is lovely, and you can park the car in tight spots remotely using buttons on the key fob, which is clever.
We could go on and on, but you get the idea, and the GV70's price also looks OK against competitors like an Audi e-Tron 55 at $147,400 or a BMW iX at $149,900, while it does, notionally and before options, sit above a Mercedes-Benz EQC at $122,724.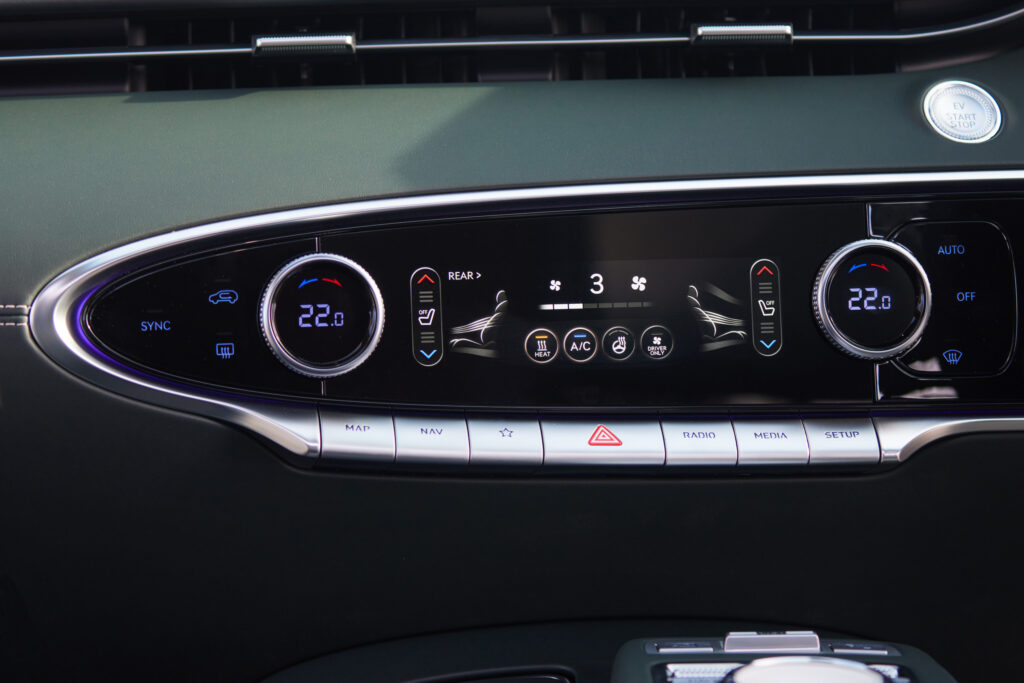 Another thing adding to its value is the first five years of servicing included in the deal.
Plus it's backed by a five-year, unlimited kilometre warranty, with the high voltage battery pack covered by a separate eight-year, 160,000km warranty that guarantees at least 70 percent of the original capacity after that time.
Inside the GV70 Electrified
So, we've already listed some of the bling in the interior, but you also get a giant panoramic glass roof thrown in, which only adds to the sense of spaciousness.
The GV70 Electrified is a mid-sized SUV with five seats and five doors, so it's playing in the busy end of the EV market.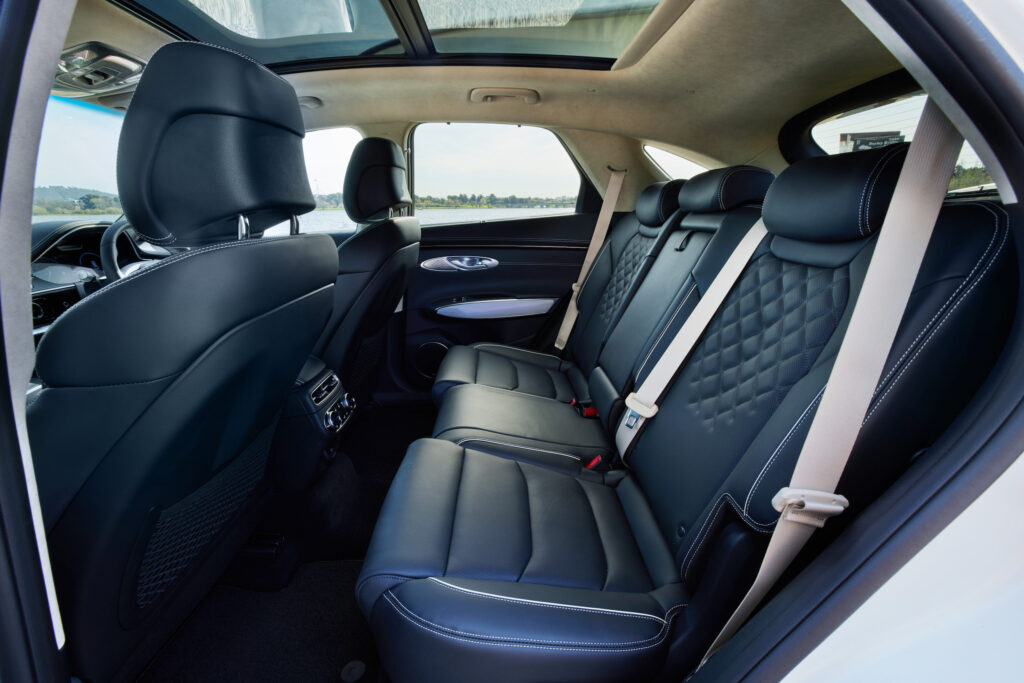 While it does feel and look premium in most ways, with all the bells and whistles present and accounted for, it would fall down slightly if you leapt into it straight out of a BMW or an Audi. Some of the parts you touch and feel just don't have the same solidity, the quality of plastics, that you get in a German car.
While the EV platform makes the GV70 quiet to start with, Genesis goes the extra mile towards peace and quiet with its acoustic laminated windscreen and windows and active noise control. It really is a pleasant place to be, with plenty of space in the rear seats and the boot as well.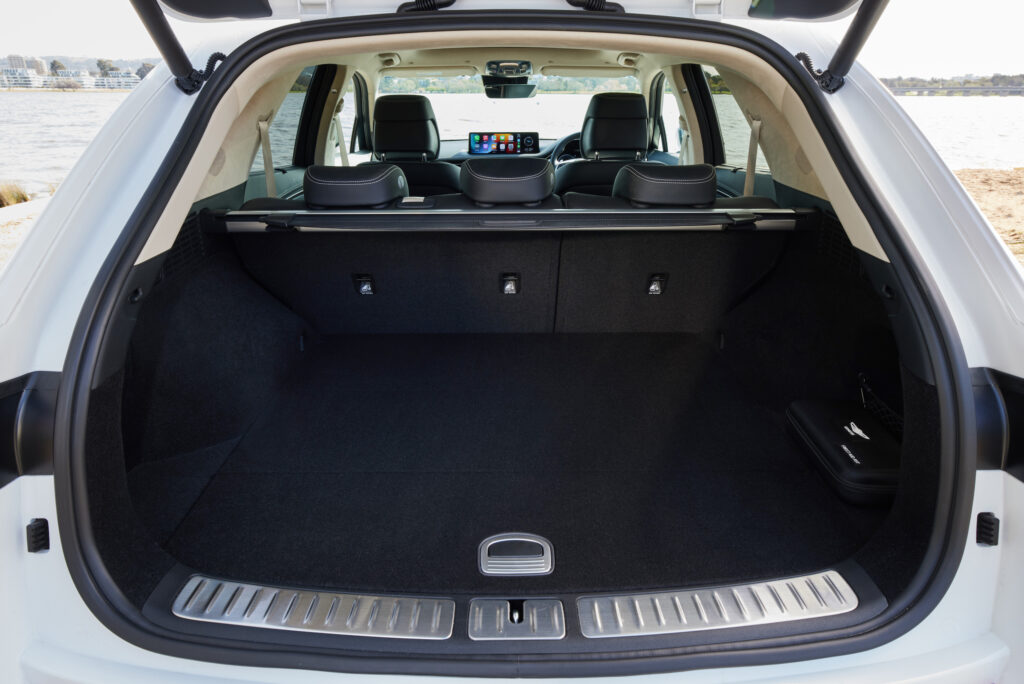 Space wise, it mostly mimics the regular (ICE) GV70, which means good space up front and decent rear room, albeit with the compromises of having an old school transmission tunnel on the floor. Those in the rear get their own ventilation controls as well as the same quilted leather splashed around up front.
The boot is marginally higher due to the underfloor battery pack, reducing luggage capacity from 542 litres in ICE versions to 525L in the GV70 Electrified. There's also a small under-bonnet cavity that's handy for storing charging valuables, although it's quite shallow, limiting its usefulness for bulkier items.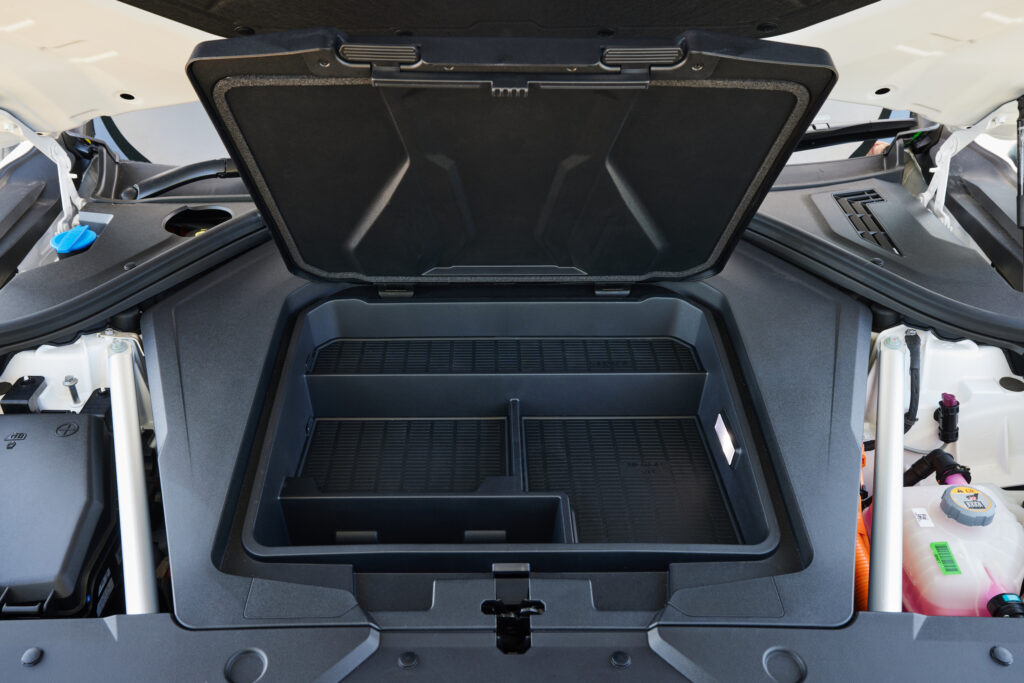 Performance and efficiency
It really is astonishing what an electric powertrain can achieve, because it does sound like a big ask to make something this big, and heavy, at 2.3 tonnes, feel exciting to drive. But exciting it most definitely can be, particularly if you're enthusiastic enough to punch the prominent Boost button on the steering wheel to unleash its full madness in 10-second bursts.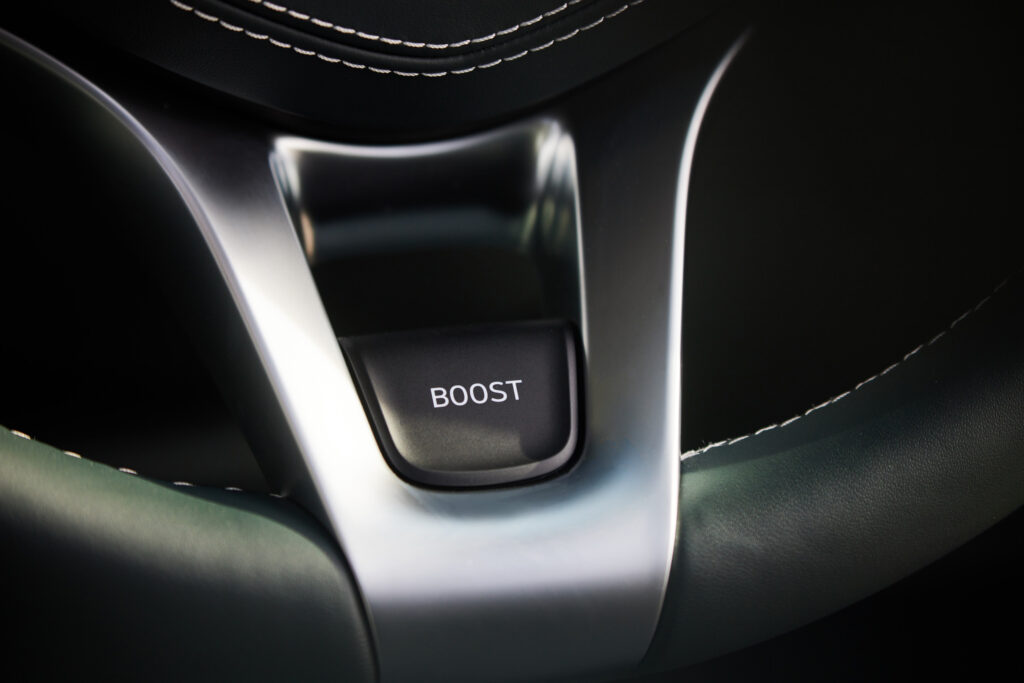 The GV70 has two motors, one on each axle, and a 77.4kWh battery pack. Each motor makes 160kW and 350Nm. That makes for a combined 320kW, with torque limited to 605Nm.
But if you go for the Boost option the power from each motor temporarily peaks at 180kW, taking the overall power to 360kW. That's the kind of number HSVs would have had emblazoned proudly on their boot lids not so long ago.
Torque, too, increases to 700Nm when in Boost mode. That is enough to hurl you, in a grinning woosh, to 100km/h in 4.2 seconds (down from 4.5 seconds if you haven't pressed the Boost button, although the online specs suggest that's more like 4.8 seconds).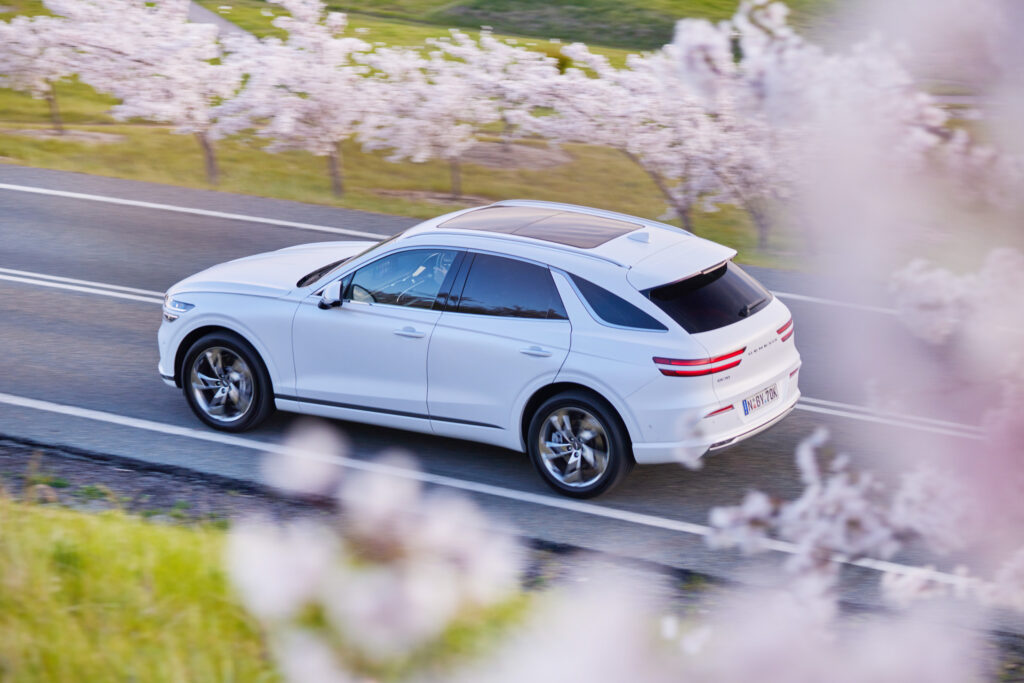 Consider that the existing GV70, powered by a 3.5-litre twin-turbo V6, manages the 100km/h dash in 5.1 seconds, and you realise how fast this EV version is – even without the Boost mode you can hit the speed limit in 4.5 seconds.
But it's not just the 0 to 100km/h, of course, the instantaneous torque delivery means the GV70 feels seriously quick and punchy everywhere, all the time. In the real world, I reckon you'd only ever hit that Boost button to impress your mates, or annoy your life partner, because you just don't need it. Plus, it seems odd to limit some of the power to a button on the steering wheel rather than the pedal under your right foot.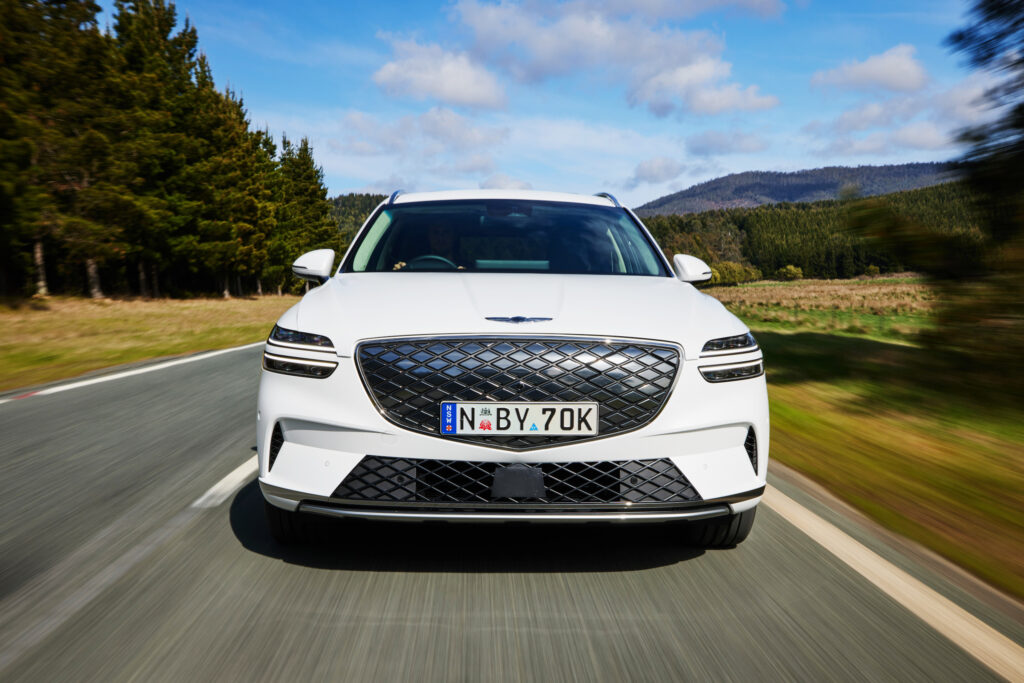 Indeed, the GV70 offers Eco, Comfort and Sport settings, and the most economical of those disconnects the front motor, giving you half the power effectively (160kW and 350Nm), yet it still feels pretty handy even in that setting. Comfort is more than fast enough for anything but the most enthusiastic attack on a winding hill climb.
The temptation to push it will no doubt be unhelpful if you're trying to achieve the GV70's maximum range of 445km on the WLTP test cycle. That's where the Eco setting will come in handy, of course. The claimed energy-consumption number is 19.9kWh/100km.
Charging the GV70 EV
You'll have to nose into some charging stations because the CCS combo/Type 2 charging port is hidden in the grille.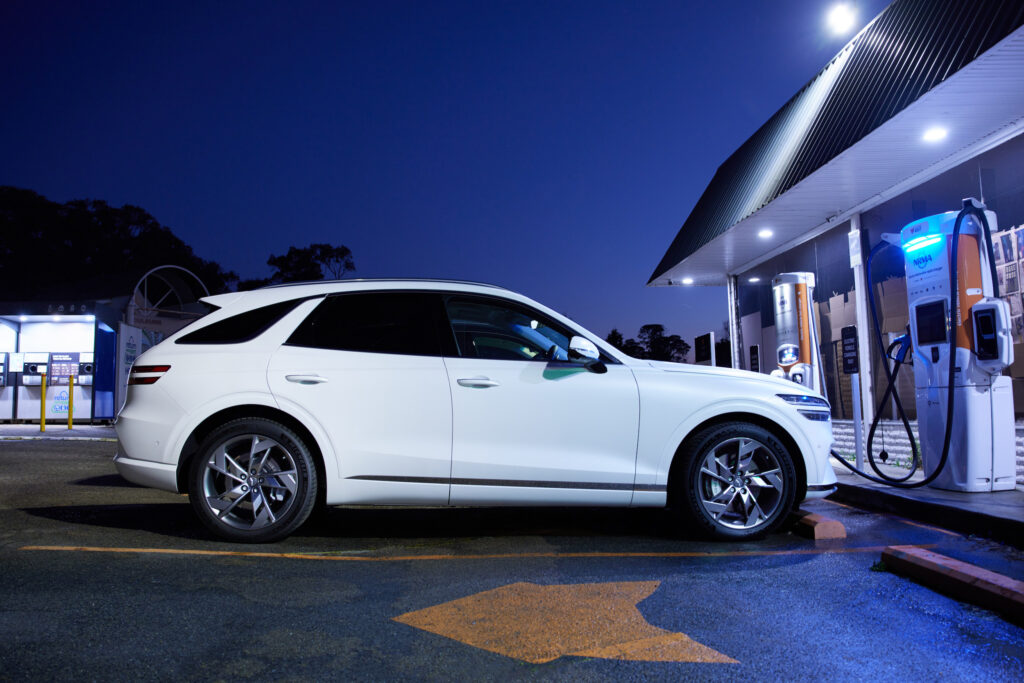 Wouldn't the world be grand if we all had 350kW DC chargers at our homes, as opposed to no-one, anywhere, ever? It would certainly make the stats that car companies like to quote more useful, but of course Genesis does want to point out that it has 800-volt charging architecture so should you plug in to one of the highest-output DC chargers and it will get from 20 to 80 per cent charge in just 18 minutes. As with other Hyundai and Genesis EVs, the company still claims the GV70 Electrified can accept a 350kW charge: it can't, with the peak limited to about 240kW (it only briefly touches that peak before pulling the charge back to protect the battery).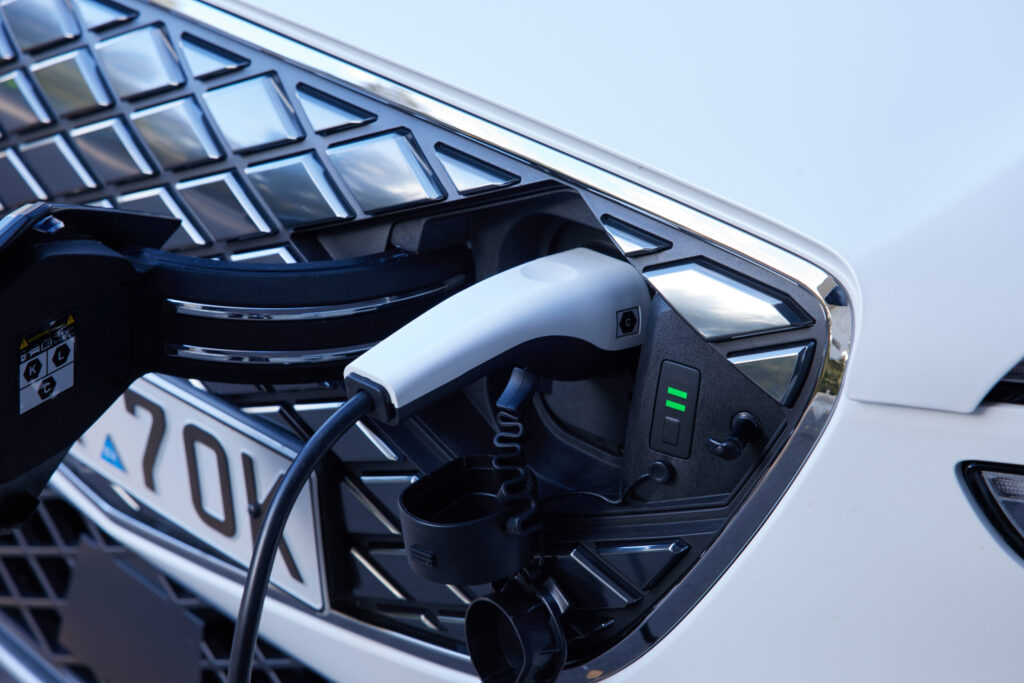 If you use a more common, 50kW fast charger that time blows out to 73 minutes, while an even more common 10.5kW AC charge would take almost 12 hours.
If you plugged in to a household socket, you'd be very sad indeed, because that charge will take about 34 hours for a full charge.
Ride and handling
For a big, 2.3-tonne SUV, the GV70 Electrified is surprisingly fun to drive. No, it can't beat the laws of physics, but having most of its weight low down gives it a decent centre of gravity and allows it to corner with some enthusiasm and commendably little body roll. The steering feedback is decent rather than spectacular and slightly on the light side for my taste, but overall it's an involving drive experience when you want it to be.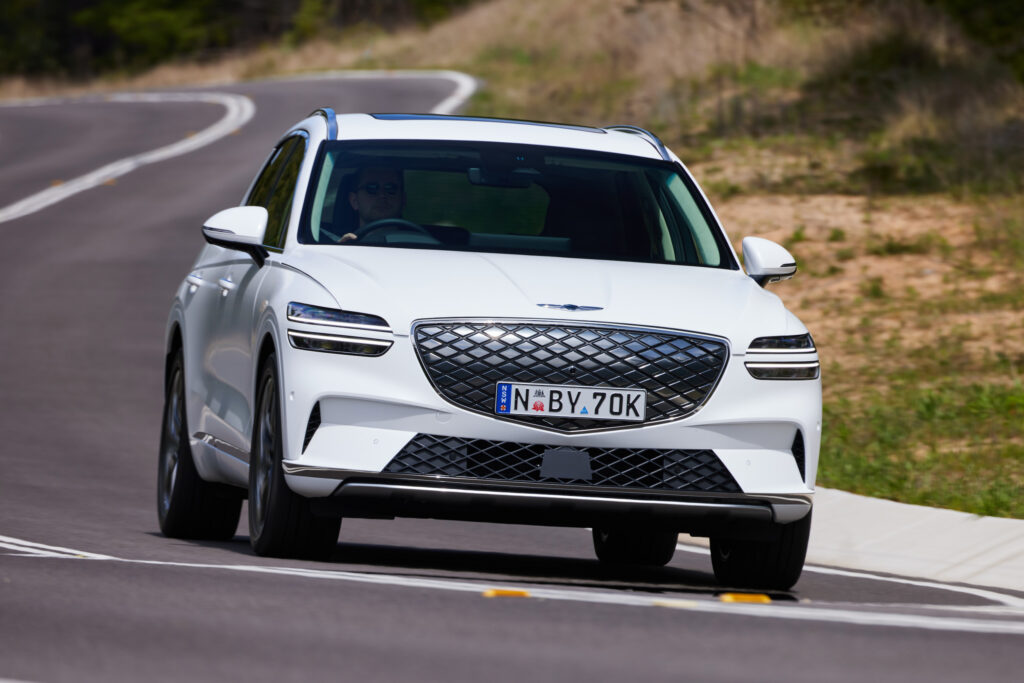 Even more impressive, though, is the way it rides, with the Genesis doing a great job of turning even bumpy roads into smooth carpets. There's not much thumping or crashing over broken surfaces and the overall ride is serene to the point of classy.
The suspension is a strut front and multi-link rear design and the GV70 also brings tech to bear, with Road Preview Electronic Control Suspension, which uses a camera on the windscreen to scan the road ahead for bumps and then prepare the suspension for what's about to happen, so its shock absorbers are never shocked, as it were.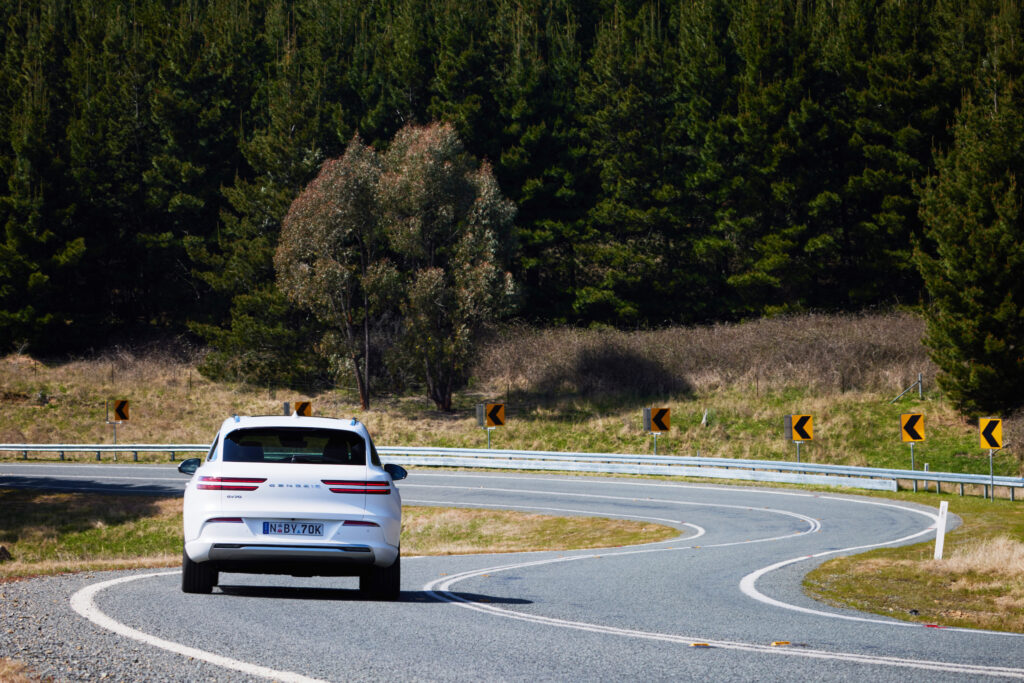 It's the sort of thing that brands like Mercedes have been pioneering for a while, and it genuinely does seem to work quite well.
Party tricks
One very modern, EV-friendly party trick is that you can give some of your battery charge to a stranded fellow EV driver using the GV70, which will make you feel very worthy. This is the modern version of jumper cables, crossed with a jerry can. Sounds explosive, but is actually just very practical. It's part of the vehicle-to-load (V2L) feature that provides an external powerpoint to power whatever you want.
I'd put the Road Preview Electronic Control Suspension in this section as well, but we should also mention that the car has a fingerprint recognition system, which I must admit I didn't bother to play with, but which allows you to personalise the settings so that it knows what you like when you get in, from seat settings to temperature or radio stations.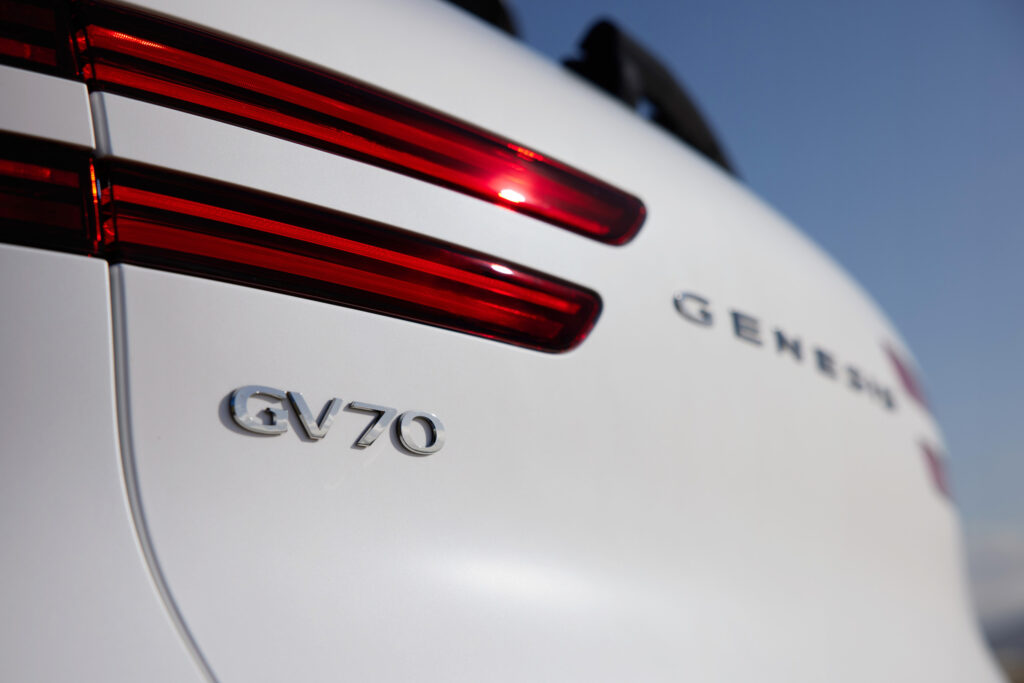 The seat massage system also has a bit of a party trick, because it leaps into action without being asked after you've been driving for a certain number of minutes, which can certainly be a surprise. One can only guess it's there to keep you awake and lively on longer drives.
Safety
The GV70 Electrified variant hasn't been tested by ANCAP yet, but the petrol and diesel versions of the vehicle have previously been awarded the maximum five-star rating. It comes with a safety triangle, a first aid kit, eight airbags and active bonnet to prevent injuries to pedestrians.
In terms of active safety it gets autonomous emergency braking (AEB) with junction turning and pedestrian and cyclist detection as well as a lane-change function and Evasive Steering Assist, plus a Driver Attention Warning.
Verdict
I have, in the past, been surprised by how much other people – particularly those who have no idea what they're looking at – have liked the design of Genesis vehicles. Mistaking them for Bentleys is a common and, when you think about it, very flattering occurrence.
But I must admit the looks of the GV70, particularly when following behind a red one, really grew on me over the two days of its launch drive. It combines a European ethos with a Korean edginess in a way that's almost but not quite radical.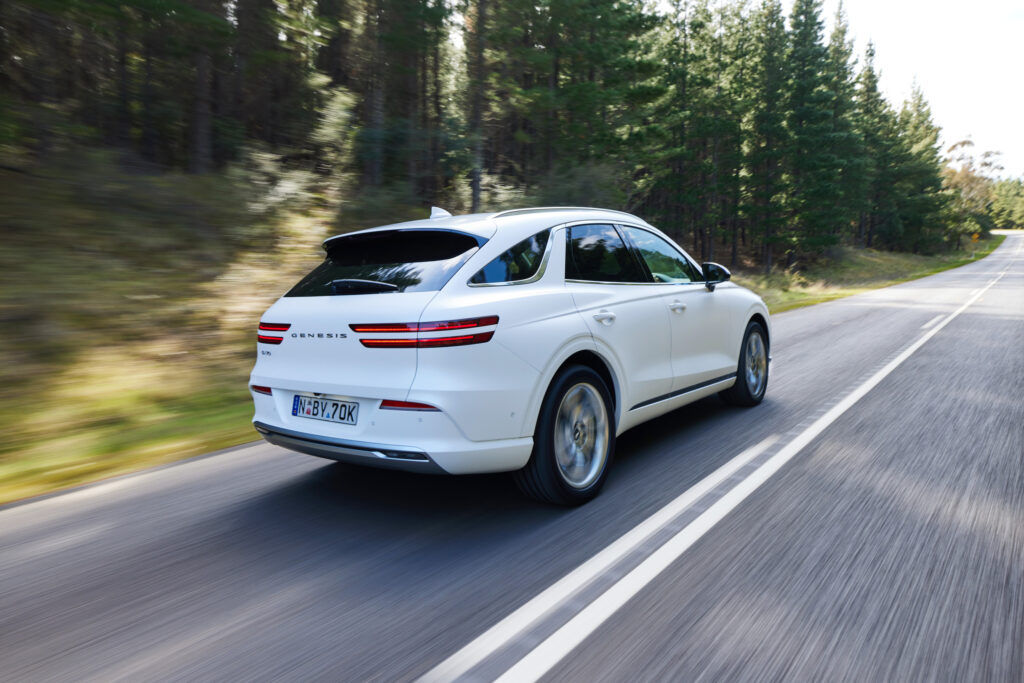 The interior attempts to do the same thing and almost gets there. If you were stepping up from a Hyundai or a Kia, you'd be impressed, but if your last car was an Audi or a Benz, perhaps less so. But you would be impressed by the value for money on offer, although you'd have to point out that's in relative terms. Paying almost $130K for a Korean car is not something that would have come to mind a few short years ago, but this thing does feel fully pimped out in terms of specification and inclusions.
What's most impressive, however, is the way it drives. The Electrified version of the GV70 is yet another advertisement for how good electric vehicles – even electric SUVs – can be. It is quiet, smooth, effortless and even seriously sporty when you want it to be. Indeed, it has more power than you could ever realistically want, outside of German autobahns, and plenty of torque for towing, no doubt, although we didn't try that, nor its off-road settings (although the ability to shift all that torque instantly to the wheel were it's needed suggests it should work well in the rough or deep sandy stuff).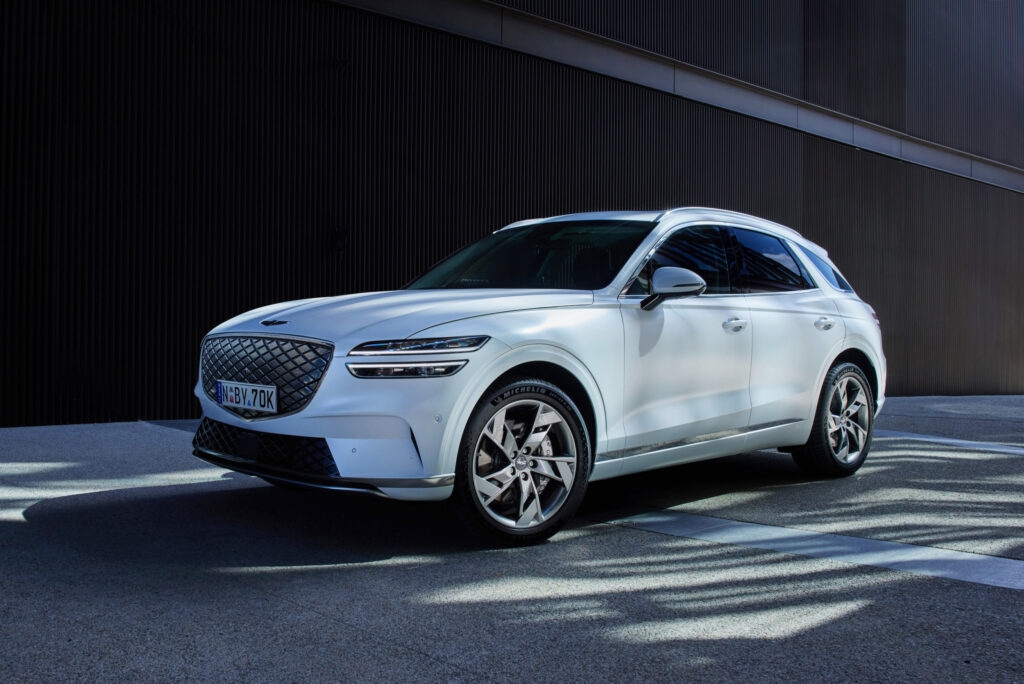 Throw in how well it rides and handles and the GV70 Electrified really is an impressive vehicle, and a great leap forward for Genesis. It could snatch quite a few bodies off its competitors.
Genesis GV70 Electrified specifications
Price: $127,800, plus on-road costs
Basics: EV, 5 seats, 5 doors, SUV, AWD
Range: 445km (WLTP)
Battery capacity: 77.4kWh
Battery warranty: 8 years/160,000km, 70% of original capacity guaranteed
Energy consumption: 19.9kWh/100km
Motors: 1 front 160kW/350Nm and 1 rear 160kW/350Nm, combined outputs 320kW/605Nm (360kW/700Nm in Boost mode)
AC charging: 10.5kW, Type 2 plug
DC charging: 240kW, CCS plug
0-100km/h: 4.5 seconds or 4.2 seconds (with Boost mode)


[ad_2]

Source link